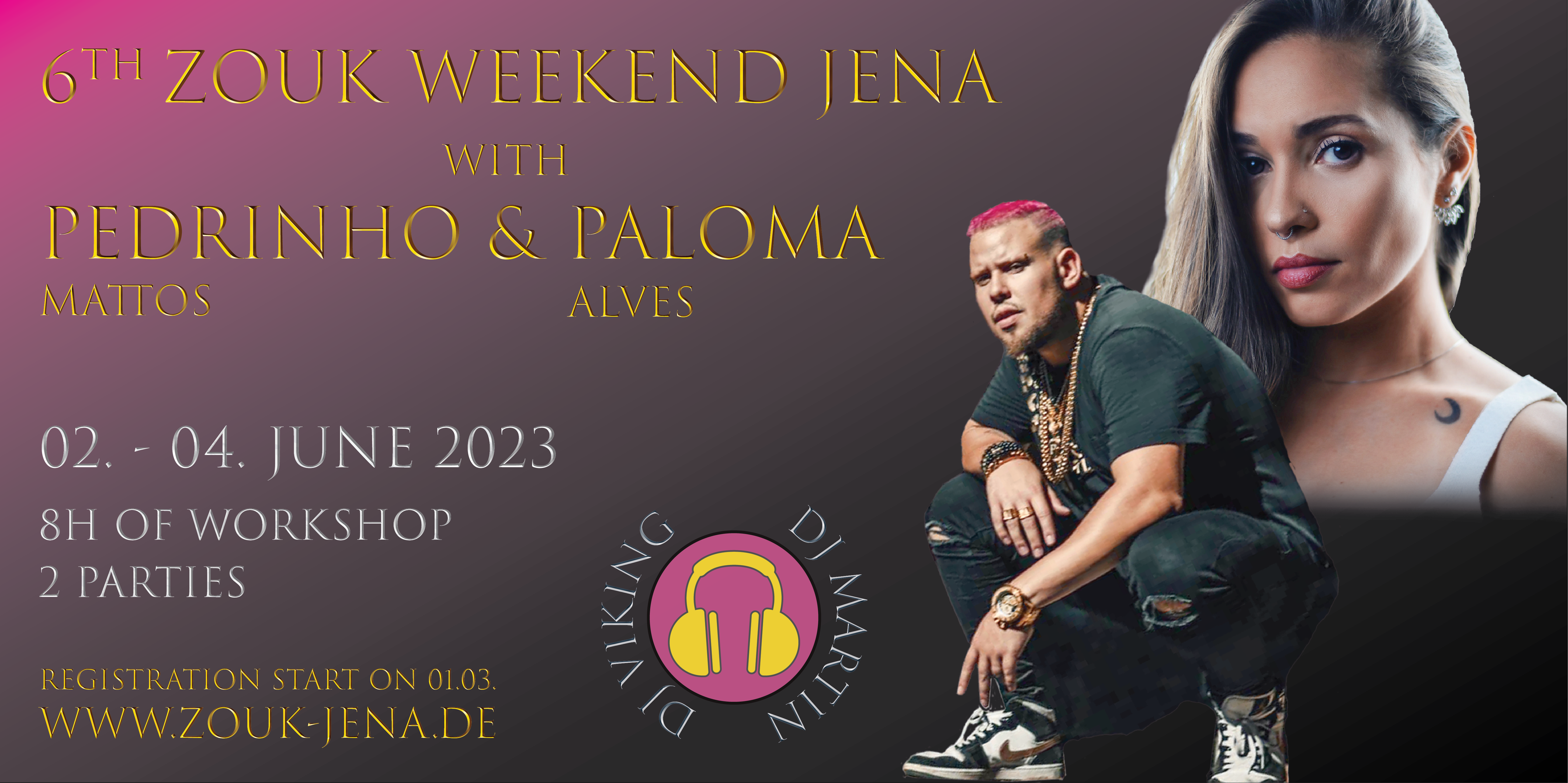 We are extremely delighted to welcome the two amazing world-class teachers to Jena, who will bring a thrilling mix of different styles in our 6th Zouk Weekend: PALOMA & PEDRINHO! 😀

Therefore, we invite you all for a terrific Zouk Weekend to come, taking place on the first weekend of June (02. – 04.06.2023).
We are looking forward to enjoying 8 hours of Couple and Solo Workshops with Paloma & Pedrinho, accompanied by Parties on Friday and Saturday night.
Time Schedule:

Friday (2.6.2023):
19:30 – 00:00 Party with DJ Viking from Oslo & DJ Martin from Ilmenau – Entrance: 7 € (at the door)
Saturday (3.6.2023):
10:45 – 11:00: Registration & Arrival
11:00 – 16:30: 4 h of Workshops (incl. breaks)
20:00 – 21:00: 1 h of Workshops
21:00 – 02:00: Party with DJ Viking from Oslo & DJ Martin from Ilmenau – Entrance: 10 € (at the door)
Sunday (4.6.2023):
09:45 – 10:00: Arrival
10:00 – 13:30: 3 h Workshops (Follower/Leader Solo Classes + Couple Class) (incl. breaks)
14:30 – 18:00: after-classes open air get-together at the Dance Area in the Paradies Park (entrance through the USV)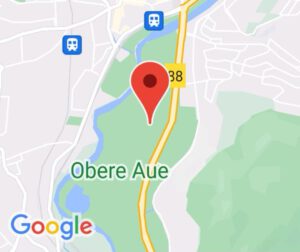 19:00 – open end: Dinner (requires registration)
Location: The entire event will take place at the KuBuS in Jena-Lobeda (Theobald-Renner-Str. 1a, 07747 Jena)
Level: The classes will be tailored for intermediate level dancers, who have about~ 1 year (or more) of Zouk experience. Confident mastery of the basic figures and basic knowledge on headmovement techniques are desired.
Full Pass:
8 h of Workshops + 2 Parties for 105 €
The event is limited to 50 participants to ensure individual feedback by the teachers and to create the well-known ZWJ-familial atmosphere 🙂
Tickets are non-refundable, but can be passed on to other participants without additional fee.
Waiting list:
Please book a ticket for the waiting list, if you like to be contacted in case we receive short-term cancellations. For this, please comment your preferred way to be contacted (email/ phone/ messenger) on a short term basis.
———————————————————————————————-
Please let us know as soon as possible, if you cannot make it to the event, so we can accept candidates from the waiting list!